---
This is the first blog post in a new series , "From Forest to Barrel". Enjoy the journey as we share how our barrels are expertly crafted from start to finish.
---
From Forest to Barrel: Harvesting
Before an ISC Barrel is even a twinkle in our coopers' eyes, the process of sourcing the best American white oak trees for barrel staves has already begun.
Independent Stave Company partners with loggers in the Midwestern and Eastern parts of the United States to purchase the best American white oak logs to craft staves for ISC Barrels.
Logging tends to run in the family and it's not uncommon for today's loggers to be the third or fourth generation to take up the trade.
In Missouri, Independent Stave Company often partners with Master Logger Kelly Frizzell. Kelly is a third generation logger – his father and grandfather were in the logging and milling business which is how he got started. Kelly has now been in the industry for approximately 30 years. Today, his daughter and nephew are also employed in his operation, making them fourth generation loggers and mill-workers.
How the Process Works:
The logger surveys the stand of timber to estimate the value of the trees and the costs of harvesting, also known as 'cruising'. The most common method of harvesting white oak is selection cutting, which removes only the most merchantable trees.
Selection cutting can also be used to remove undesirable trees when they are young to maximize the health and overall vigor of a stand. This is called Timber Stand Improvement.
Timber Stand Improvement (TSI) removes non-merchantable, damaged or declining trees to promote growth of the more desirable trees.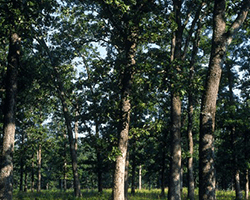 Successful loggers like Kelly have expert knowledge of the local timber markets. Species, size, and quality requirements vary from mill to mill. Independent Stave Company log buyers work closely with log suppliers so they fully understand size and quality specifications to maximize efficiency and value to both parties' benefit.
Kelly has been working with Independent Stave Company for many years and understands the high standards of quality oak logs that are purchased and knows ISC buys fairly and consistently to those standards.
Master Logger Certification:
Most states have a voluntary Master Logger Certification to help ensure the long term forest sustainability. Master Logger programs are rigorous, performance-based programs that protect the land and its resources.
Kelly is one of only 17 Certified Master Loggers in the state of Missouri, recognizing him as the "Best of the Best" in his profession. As a Master Logger, he abides by stricter rules of better logging practices and his crew are trained to a higher standard than most.
Harvesting a White Oak Tree [VIDEO]
In the video below, you'll see Kelly and his crew use a chainsaw to fell an American white oak tree, de-limb the log, and mark the merchantable lengths of the log to be cut. Then a skidder efficiently removes the log from the forest.
Once the logs are loaded on a log truck they are delivered to the appropriate sawmill to be purchased.
Stay tuned for the next post in our From Forest to Barrel series – The Log Yard.