Experimental Whiskey Library Expansion
Have we been busy at the ISC Research Center? Indeed, we have! Our experimental barrel program has grown by leaps and bounds over the past seven years. We now have over thirty different experiments covering nearly three thousand experimental barrels. In recent years, we have focused on studying maturation of American whiskeys, bourbon, single-malt, and tequila. Now, we are preparing for studies in different categories.
When ISC wants to test a new barrel design or study a specific aspect of maturation, we have two options – we can do a bench trial in the lab/environmental chamber, or we can partner with a distillery to initiate a barrel trial. In a barrel trial, we send a partnering distillery an array of barrels, they fill them with distillate or maturate (depending on the experiment), then we get samples back according to a predetermined schedule for chemical and sensory analysis.
The only downside to the barrel trial is that over time, the samples tend to take up a lot of room. In a sixty-barrel trial, we will get samples back from each barrel once a year for four years. Additionally, we get between three to six 750mL bottles from each barrel when they are dumped. That adds up to potentially 600 bottles for one experiment.
All of this brings me to the reason why I am writing this post today – to introduce the recently completed expansion of the whiskey library at the Kentucky Research Center.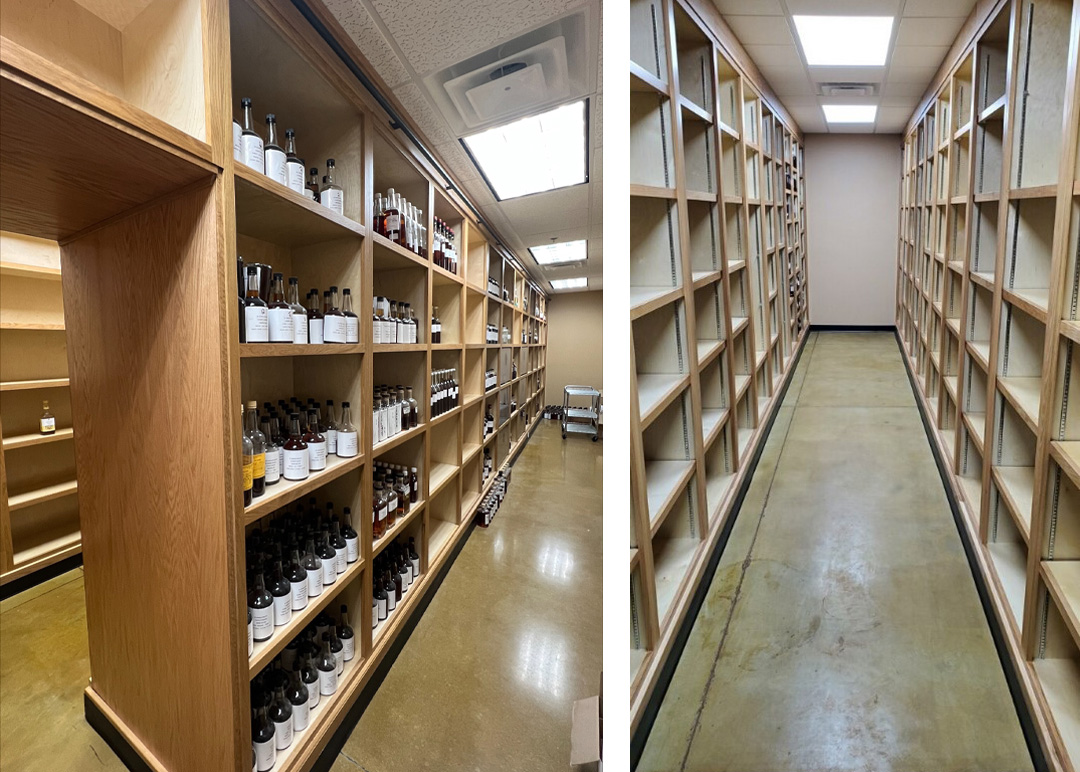 Left: original whiskey library at ISC Research Center; Right: recent expansion of the ISC Research Center whiskey library
With more and more of our experiments coming to maturation, we needed more space. This expansion gives us that much needed space, and it signifies ISC's commitment to research and development for years to come. It will allow us to properly store and catalog thousands of additional sample bottles from current and future experiments.
For our distilling partners across the world, this is great news. The expansion of our library and our experimental barrel program means more technical knowledge as it relates to spirit maturation. You can taste samples from experiments that cover our entire spirit barrel portfolio and see how these different barrels will affect a spirit. This means reduced product development costs for distilleries and exciting new flavor possibilities. Lastly and possibly most importantly, it means a lot of new samples to taste for years to come.
Over the next several years we will concentrate on research in different spirit categories such as Scotch, Irish Whiskey, Rum, Australian Whiskey, Japanese Whiskey, and more. We will also study more complicated aspects of maturation like barrel warehouse dynamics, climate effects, and some new and exciting flavor development applications. We have already started to get samples back from our first Scotch Whiskey experiment and we will continue to harvest samples from that experiment over the next ten years!
Can't make it to our ISC Research Center? We will gladly give you a consultation and mail a custom tasting kit filled with samples to try – just send me an email.
CHEERS!
Andrew Wiehebrink
---