How to Add more Bourbon to the Thanksgiving Menu
If you've ever wondered how to add more bourbon into your Thanksgiving dishes, you're in good company. We scoured the internet for some bourbon-filled side dishes and today we're sharing two of our favorites that will complement your Thanksgiving turkey and fixings.
Mashed potatoes are a Thanksgiving staple, but why not branch out and try some mashed sweet potatoes too? The bacon, bourbon, and sage are perfect partners with the sweet potato flavor. Warning, don't get heavy-handed with the bourbon. Stick to two tablespoons (or less) depending on personal preference.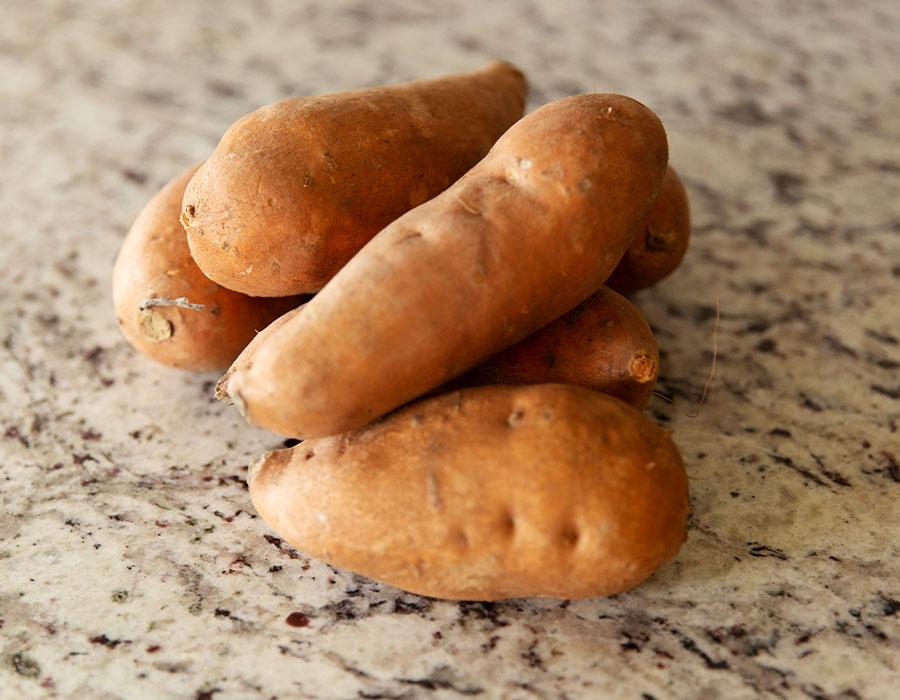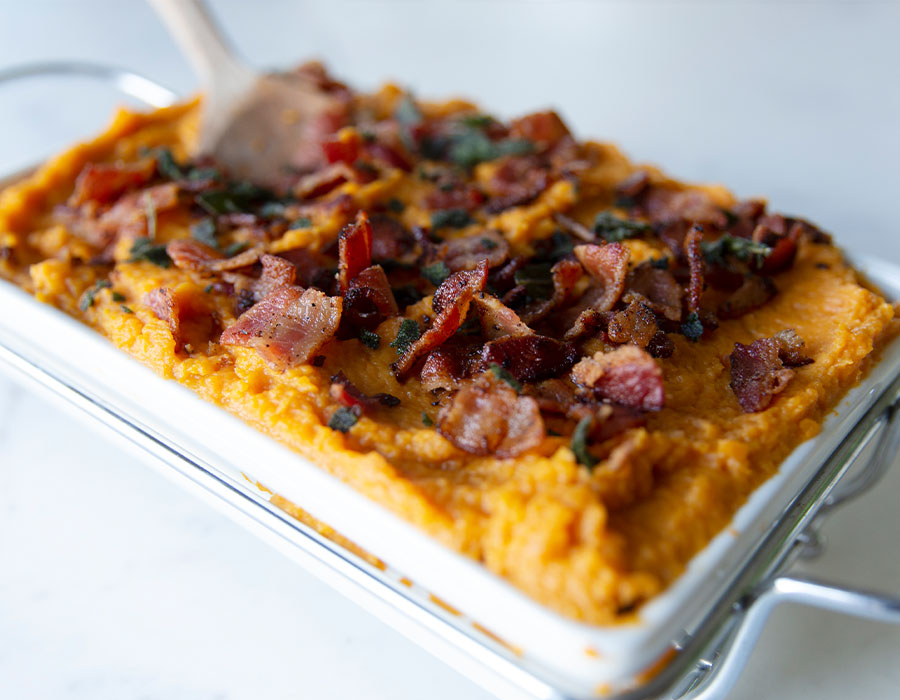 This recipe calls for brown butter. If you've never browned butter before (like me) then make sure you stir constantly and take it off the heat as soon as you see the brown bits forming. It's easy to burn butter, apparently.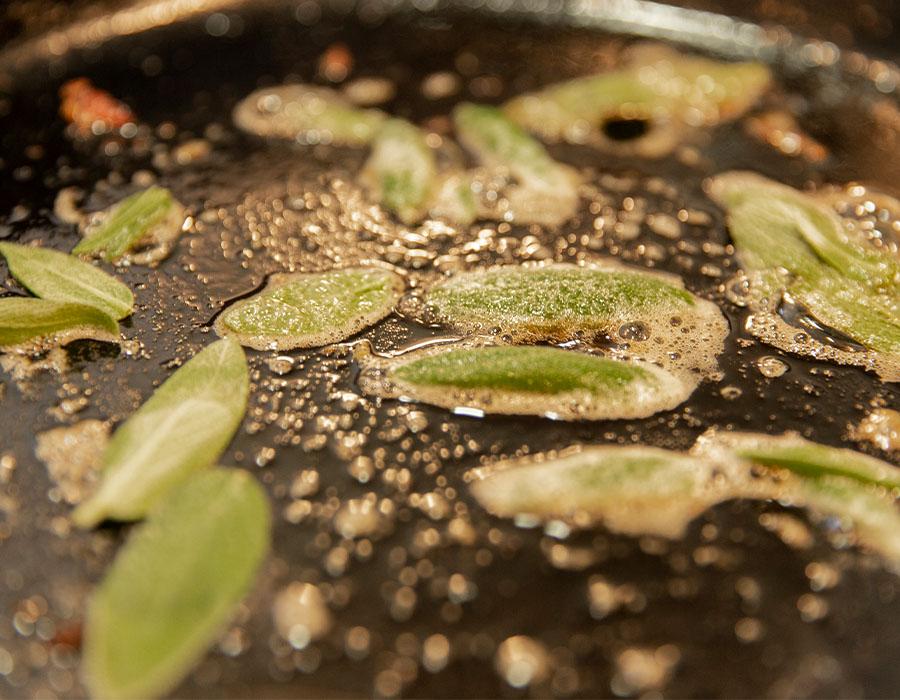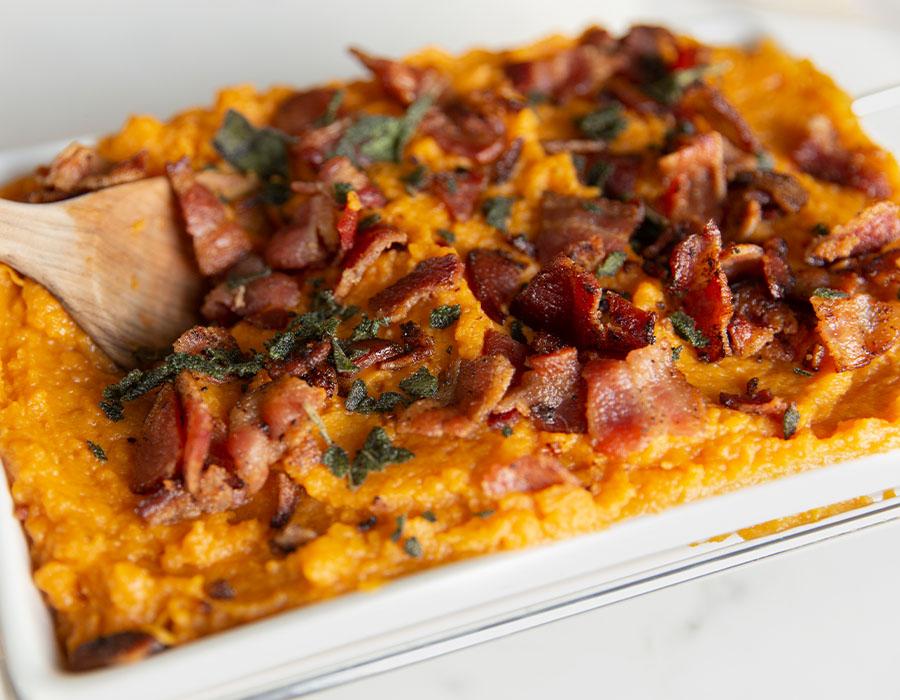 The sage smells wonderful as it's cooking. Fresh sage leaves aren't an ingredient I've used often, but they add a nice herbal, earthy flavor to this dish.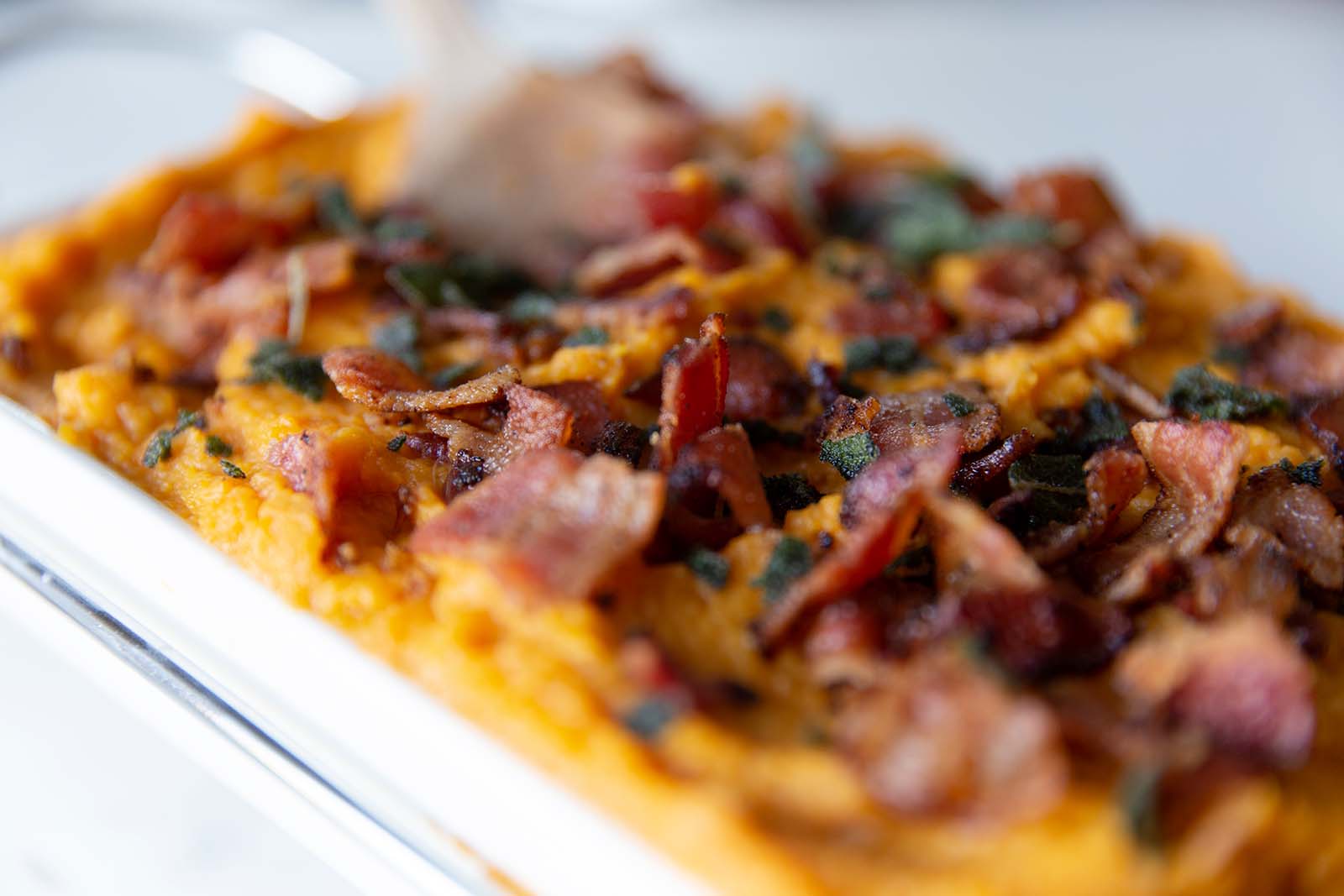 Ingredients
4 pounds sweet potatoes, peeled and cut into 1 1/2-inch chunks
4 slices thick cut bacon, chopped
15-20 sage leaves
1/2 tablespoon unsalted butter
1/3 cup milk
4 tablespoons brown butter
2 tablespoons bourbon
1/4 teaspoon salt
1/4 teaspoon pepper
Instructions
Add the potato chunks to a large pot and cover with cold water. Bring the potatoes to a boil and cook until tender, about 20 to 30 minutes. While the potatoes are boiling, heat a large skillet over medium-low heat and add the chopped bacon. Cook the bacon until it is totally crispy.
Remove the bacon with a slotted spoon and place it on a paper towel to drain. Remove about a tablespoon of bacon fat from the skillet and set it aside in a bowl. To the same skillet, add the butter and heat it over medium heat. Add the sage leaves and cook until they are crispy, about 1 to 2 minutes per side. Remove them with a slotted spoon and place on a paper towel to drain.
When the potatoes are finished, drain thoroughly and add them back to the pot. Mash them with a fork or potato masher, then use a whisk or electric hand mixer to whip them. Once whipped, add in the reserved bacon fat, the milk, the bourbon and the brown butter. Whip the potatoes again until everything is combined. Taste the potatoes and add the salt and pepper.
Spread potatoes in a dish and top them with the crispy bacon and crumbled sage.
You won't be sorry if you add this side dish to your Thanksgiving table. Both sweet and savory, it's sure to be a crowd pleaser.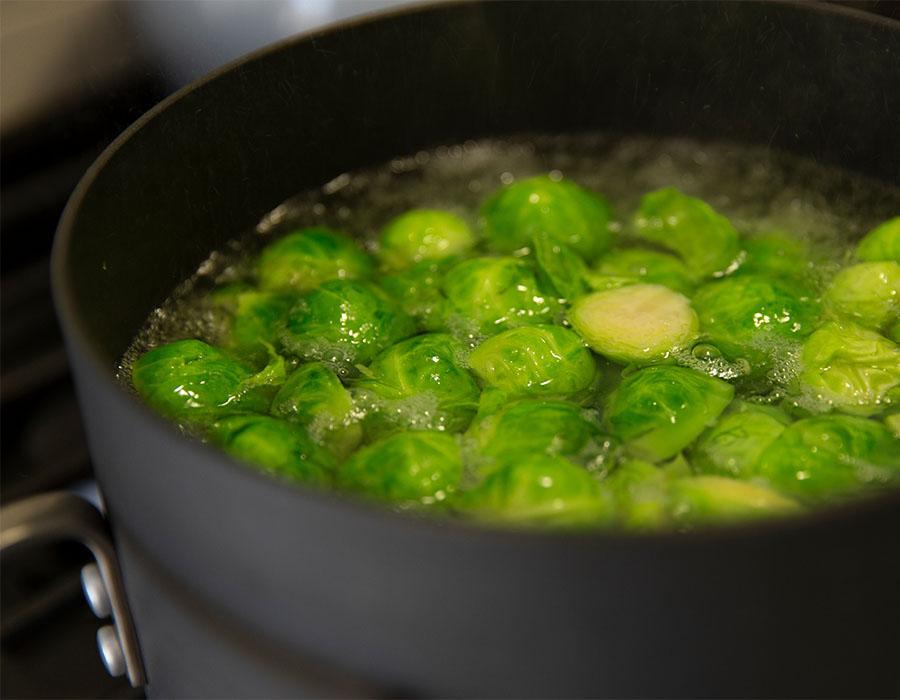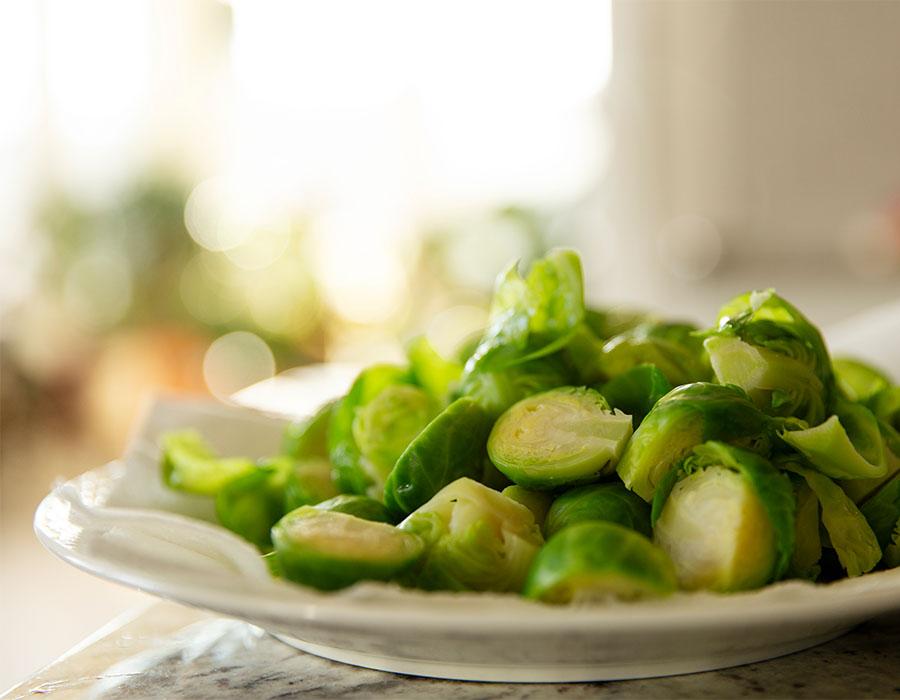 I will say, brussels sprouts can be a pain to prepare for cooking. If you can find any "short cuts" already trimmed and peeled at the store, it would save a lot of time. The sprouts do turn a gorgeous green color when they are blanched, and then crisp up perfectly in the pan.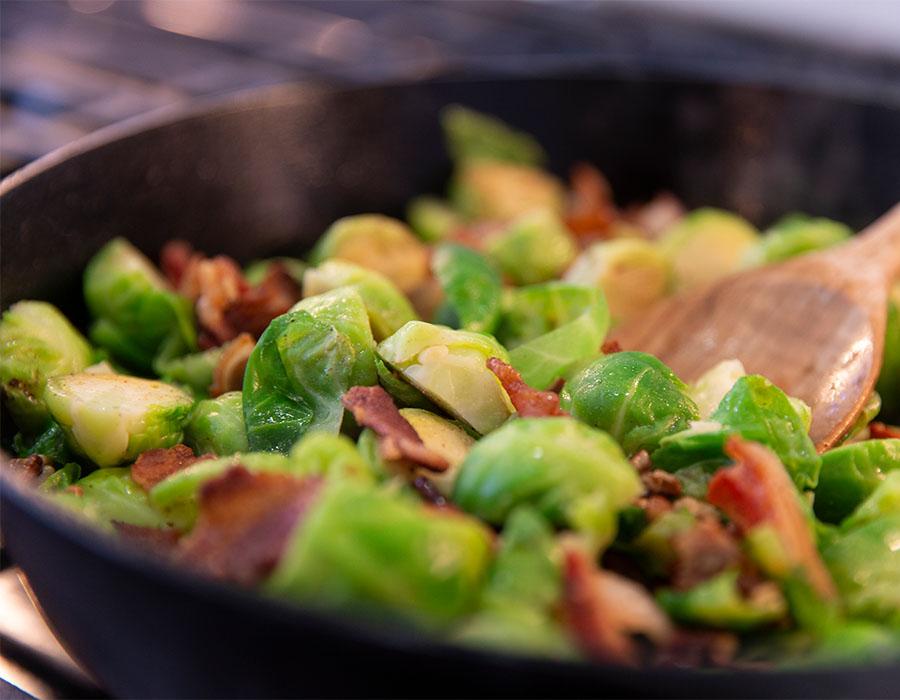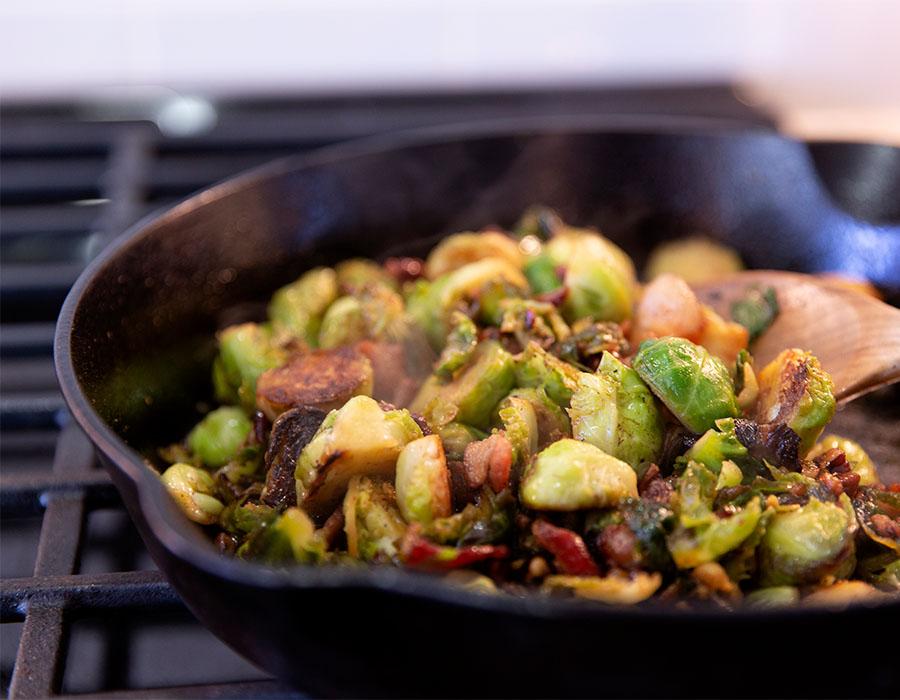 The original recipe calls for four strips of bacon, but don't be afraid to use five... or six. This dish really comes together when you add the bourbon and maple syrup at the end.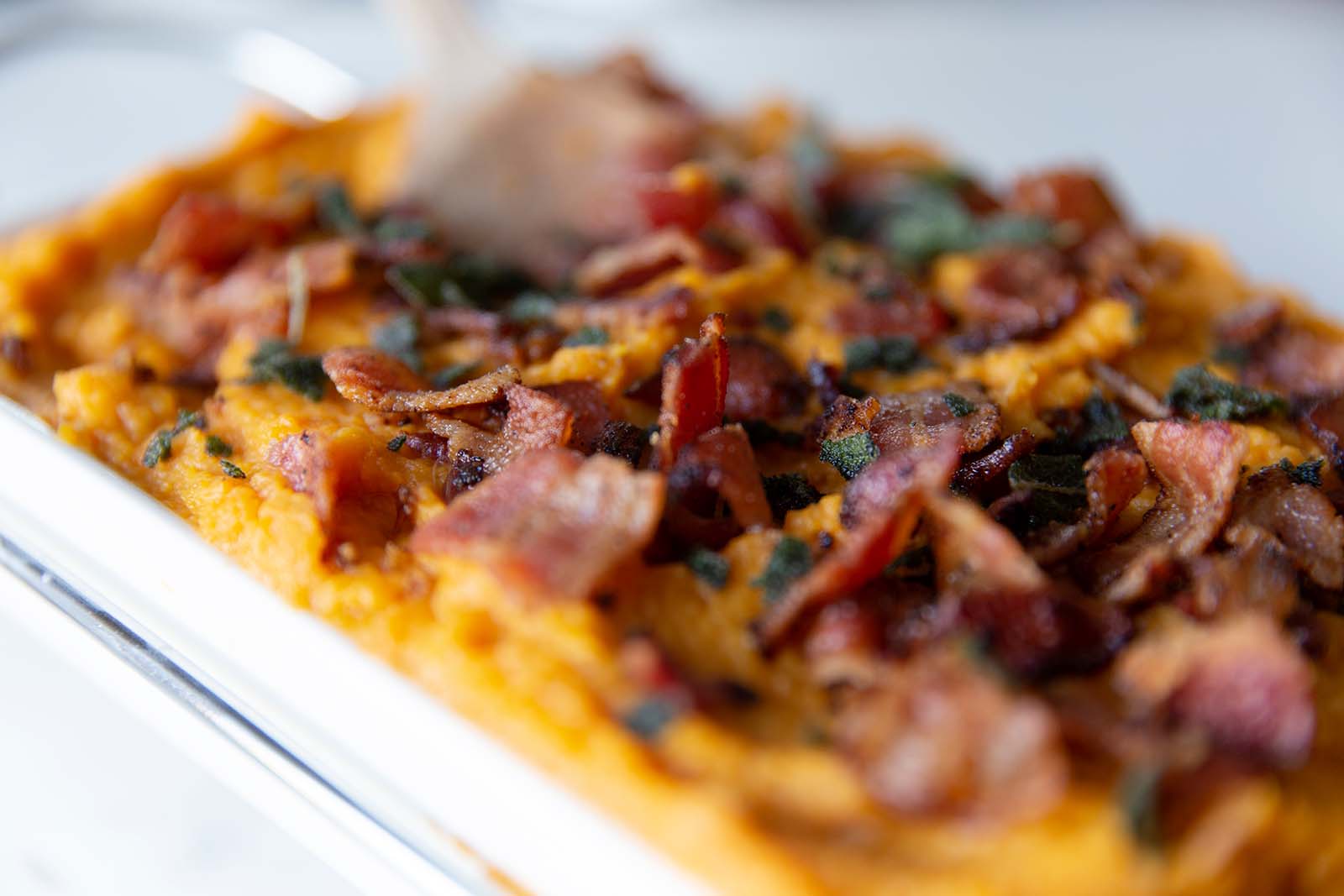 Ingredients
1 1/2lbs brussels sprouts, trimmed and halved
1 tablespoon salt
4 strips bacon, diced
1/2 cup pecans, chopped
1 teaspoon ground mustard
2oz bourbon
1/4 cup maple syrup
kosher salt
cracked black pepper
Instructions
Fill a large pot with enough water to fully submerge the brussels sprouts, and place over high heat. Bring to a boil and add a tablespoon of salt.

While the water is coming to a boil, prepare the brussels sprouts. Trim the ends, then peel away the tough outer layer of leaves. Slice the brussels sprouts in half lengthwise. Add the brussels sprouts to the boiling water and blanch 4-5 minutes, until tender but still bright green and vibrant. Strain, then run under cold running water to stop the cooking process. Shake to release as much moisture as possible, then set aside to air dry.

Heat a

12" cast iron skillet

over high heat. Add the bacon and cook until the fat renders and the bacon is crisp, 7-8 minutes. Add the blanched brussels sprouts and pecans to the pan, then sprinkle with the ground mustard. Sear over high heat, stirring frequently, until the sprouts are crisp, about 5 minutes.

Add the bourbon to the pan and deglaze, scraping up the browned bits from the bottom of the pan; continue cooking until the bourbon has evaporated, about 1 minute. Add the maple syrup and cook 1 minute more, until slightly thickened. Season with salt and pepper to taste and serve immediately.