Delicious Bourbon Appetizers for Fall Parties
As the summer fades into fall, we're welcoming a change of pace with back-to-school events, football, and fall parties. With that in mind, we wanted to find two bourbon-filled recipes that would be great to share with family and friends during a fall social event, tailgate or watch party. We think these two do the trick. Enjoy!
Rich and creamy, this appetizer is the perfect one-bite snack to add to a pot-luck or appetizer table. They would be easy to transport as they are contained in the phyllo shells. You could also make the filling in advance to save time the day of your event. Best served warm, but still delicious after they have cooled as well.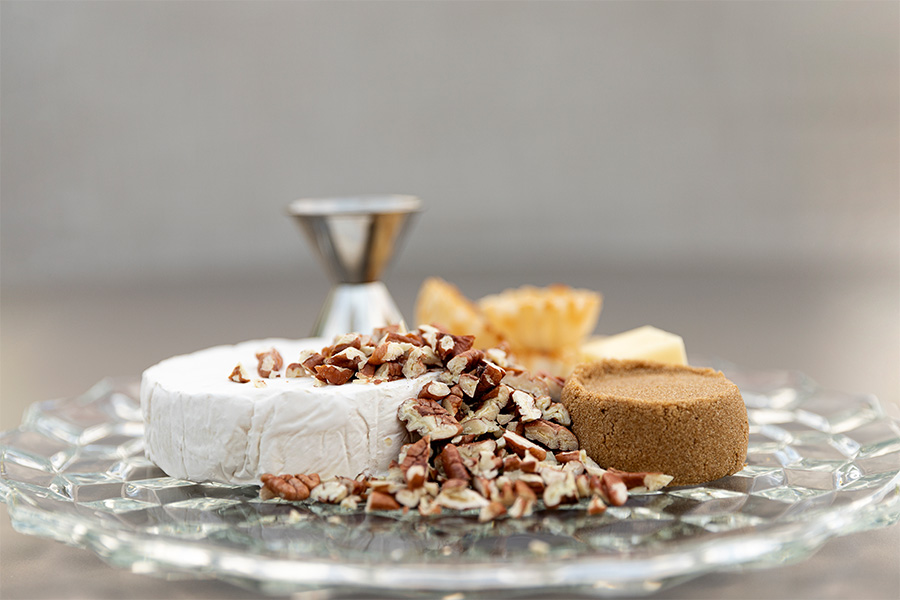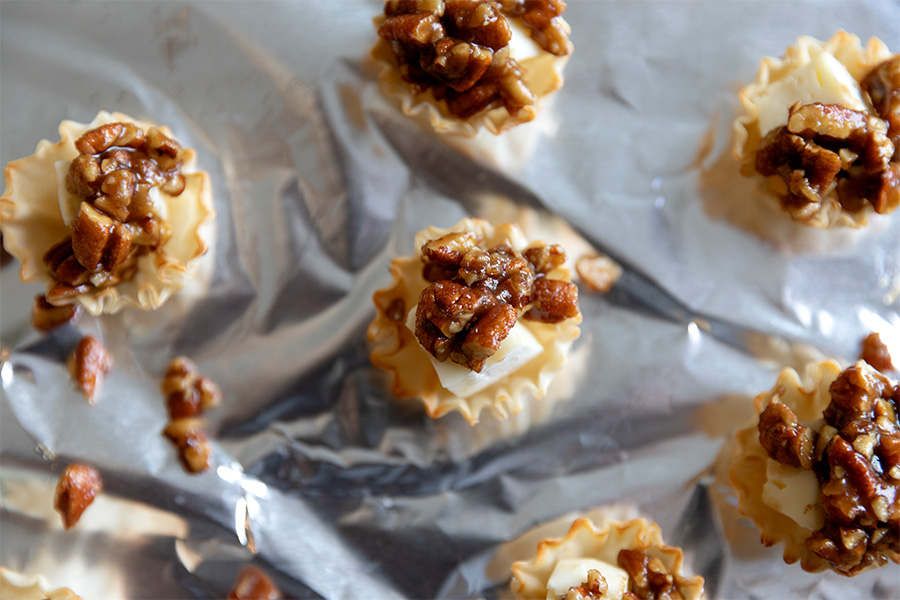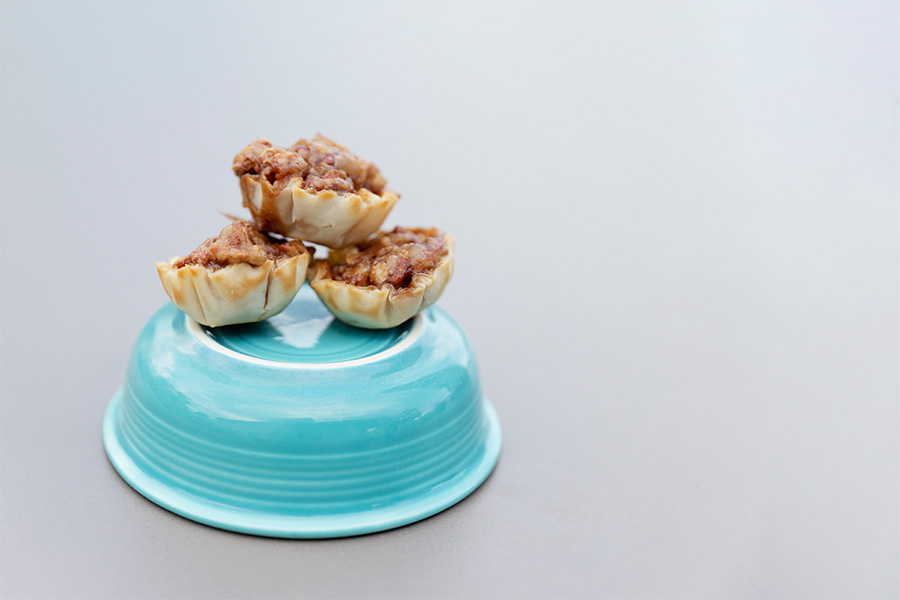 Ingredients
1/4 cup brown sugar (packed)
2 tablespoons unsalted butter (melted)
1 tablespoon bourbon
1/4 cup roasted chopped pecans
8-ounce round of brie
1 package frozen mini fully baked phyllo shells (15 shells)
Instructions
Pre-heat the oven to 350 degrees F.
Add all ingredients but the brie and phyllo shells to a small bowl and stir to combine.
Carefully remove the rind from the brie. Cut brie into approx. 1/4" cubes.
Place a cube of brie into each phyllo shell and top with the bourbon pecan mixture until the shell is full.
Place the full shells on a small baking sheet and bake for 10 minutes or until the brie has melted and is bubbly.
Remove from the oven and serve warm or at room temperature.
---
Of the two recipes, this one was more involved - but the results were worth the effort! Lightly toasted crostini is topped with creamy brie cheese and a sweet and savory bourbon, maple, brown sugar bacon jam to create the perfect bite (or two). Again, the filling in this recipe could be made ahead of time making it even easier to through together for your party.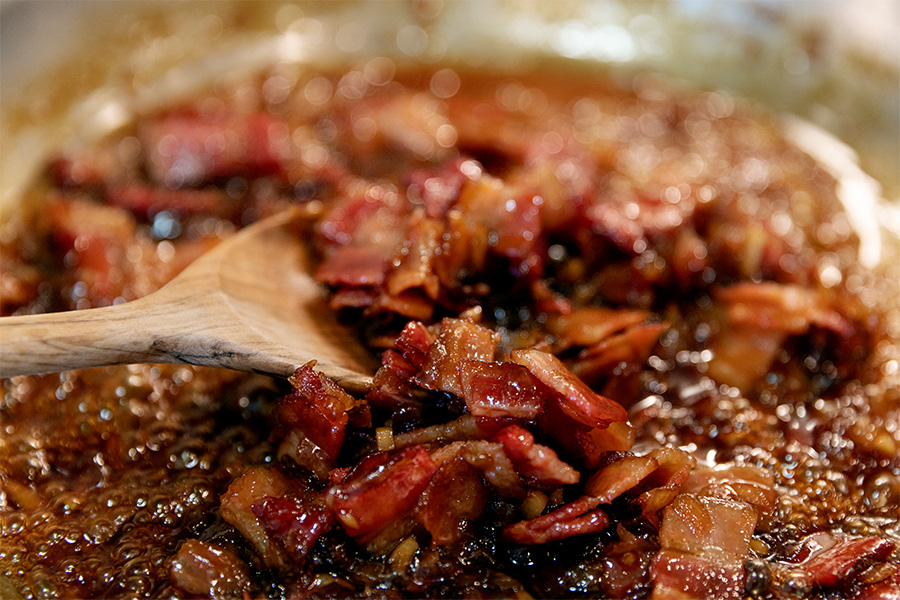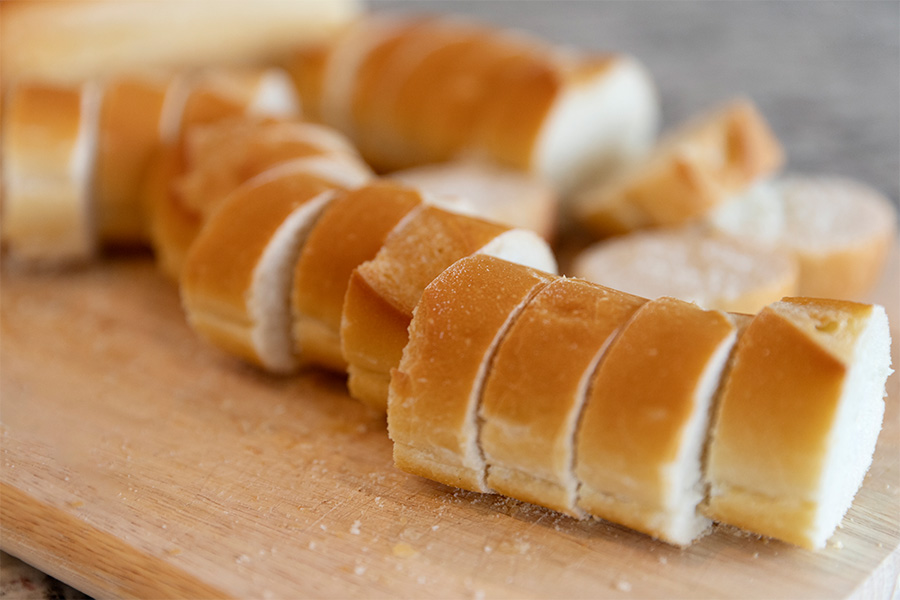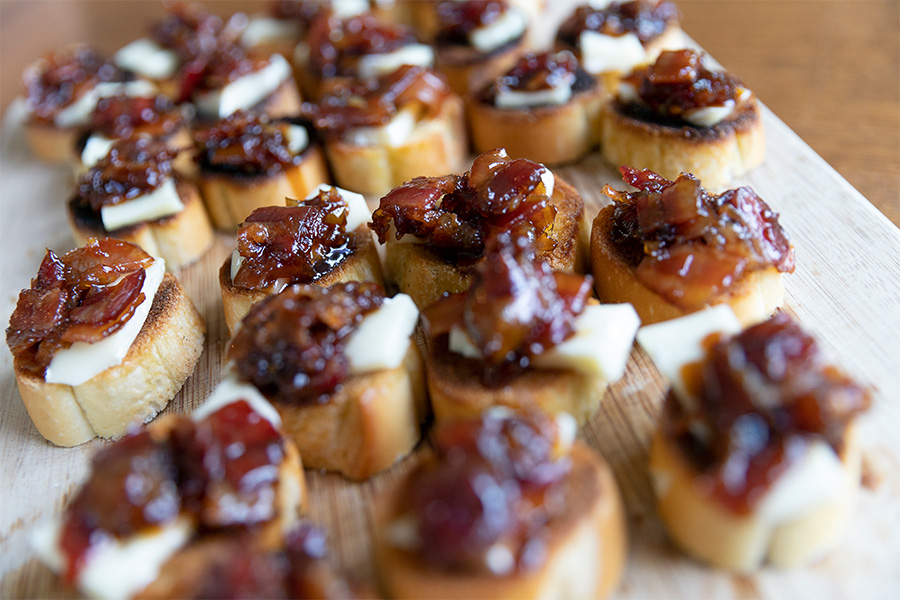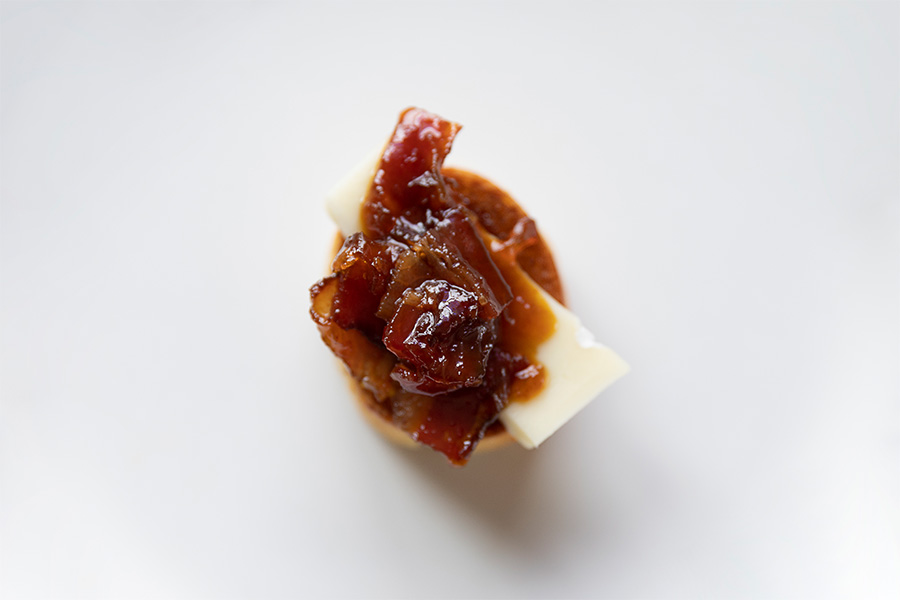 Ingredients
1 lb Applewood smoked bacon (cooked to crispy and chopped)
1 small onion (finely diced)
2 garlic cloves (minced)
1/2 cup brown sugar
1/4 cup sherry vinegar
1/4 cup bourbon
1/4 maple syrup
1/4 cup water
1 teaspoon smoked paprika
1 tsp Dijon mustard
1/2 tsp fresh thyme (roughly chopped)
1 tablespoon olive oil (plus more for brushing on crostini)
1 large baguette
6-8 oz creamy brie cheese
Making the Bacon Jam
In a medium bowl combine sherry vinegar, bourbon, maple syrup, brown sugar, Dijon mustard, smoked paprika, and water in a small bowl and set aside.
In a medium sauté pan, add the diced onion and olive oil and sauté on medium heat for about 10 minutes until they are soft and translucent.
Add the minced garlic and let cook for about 30 seconds until fragrant.

Add the brown sugar and bourbon mixture, turn heat to medium low and let simmer for about 30 minutes until the mixture has reduced and started to thicken.

Add bacon pieces and chopped fresh thyme to the bourbon mixture and continue simmering for about 5 more minutes.
Remove from heat and transfer mixture to a heat proof bowl and let cool at room temperature for 30 minutes, then transfer to the refrigerator for 2 hours (or up to 3 days). The bacon jam will thicken as it cools.
Making the Crostini
Preheat the oven to broil and place the oven rack on the upper third section (about 8 inches from the broiling unit). Slice the baguette into ½ inch slices and brush with olive oil. Place baguette slices oil side up on a large baking sheet.
Broil for about 2 minutes until lightly toasted. Remove immediately once toasted as they will go from lightly browned to burnt very fast.
Remove crostini slices from the oven and top with a slice of creamy brie cheese while still warm.
Next, top with about one tablespoon of the bourbon bacon jam and serve at room temperature.