A Perfect Bourbon Weekend in Louisville, Kentucky
By: Andrew Wiehebrink, Independent Stave Company Director of Spirit Research and Innovation
Over the past decade, Louisville has once again become a major epicenter for the distilling industry. Louisville's famed Whiskey Row – a portion of Main Street that was once home to dozens of distillers, rectifiers, and whiskey related operations – has recently seen a rebirth of more than 10 distillery focused tourist attractions, currently operating or under construction.
This resurgence has trickled down to all aspects of tourism in Kentucky's largest city with many of the hotels, restaurants, bars, museums and more who are prioritizing bourbon history and the art of bourbon-making as the primary focus of their visitor experience. Private barrel picks are plentiful, distillery tours are bounteous, tasty food and crafted cocktails are near at-hand!
As a Louisville native, I'm sharing some key tips to building the perfect bourbon weekend in Louisville, Kentucky.
WHISKEY ROW | LOUISVILLE, KY
To experience all things bourbon, start with lodging. Be sure to stay where the action is! There are great locations on and surrounding the Main Street corridor, ensuring you are only steps away from some world-class distillery tours. And don't forget to check out some of Louisville's bourbon-themed hotels that immerse you in your bourbon journey and tie together all aspects of the perfect bourbon weekend. Some are even directly connected to great history and exceptional bars. I suggest... 
Hotels
With so many distillery experiences popping up in and around the downtown area, you have an abundance of options to visit. My recommendation? Pick your favorites! My number one tip for distillery tours? BOOK TOURS IN ADVANCE. WAY IN ADVANCE. With more than two million visitors exploring the Kentucky Bourbon Trail and the Urban Bourbon Trail annually, tours fill up quickly.
Keep in mind the distilleries located in the Louisville city limits are typically small and offer boutique tasting experiences. If you desire an industrial tour with one of the major distilleries, plan on a short trip to one of the larger distilleries just outside of Louisville.
Most tours last an hour or more (and you'll want to spend additional time on-site to browse their expansive visitor centers and eateries) so I suggest that if you are planning tours in succession for any given day, be sure to account for the time you need at each location to truly enjoy the experience plus travel time between destinations.
If this seems overwhelming, you're in luck. Here in the Bluegrass State, you can hire a team to do all the planning for you! There are lots of companies ready to help make an easier and more enjoyable bourbon experience. If you are with a larger group of people, this might be the way to go. Mint Juelp Tours is a leader in bourbon-focused experiences and will help you customize your perfect bourbon weekend. A few of my favorite stops in the city are listed below…
Distillery Tours
EVAN WILLIAMS BOURBON EXPERIENCE
In addition to being surrounded by world-renowned bourbons, Louisville is also becoming known as a "foodie town" and has been nationally ranked for being home to some of the best restaurants across the U.S. You'll find no shortage of gourmet restaurants, casual dining, dives, and cocktail bars focused on curating once-in-a-lifetime whiskey and culinary experiences.
A word of caution though that not all restaurants and bars are created equal when it comes to having an expansive Bourbon menu. To save you some homework, I'm sharing some of my favorite spots that will satisfy the emptiest of stomachs and the most discerning Bourbon enthusiasts.
An insider tip - some of the best cocktails in town are made by the wonderful people who tend bar at the distilleries. Don't neglect these spots as they have splendid views, great atmospheres as well as awesome food and drink.
Food and Drink
For a truly unique experience, make plans to visit us in Lebanon, Kentucky for a behind-the-scenes look at how we craft our barrels.
Tours of the Kentucky Cooperage are offered Monday through Friday at 9:00 AM, 10:30 AM and 1:00 PM. Book online at www.kentuckycooperagetours.com.
I hope you'll come see for yourself all that Louisville and ISC have to offer! 
Cheers!
Andrew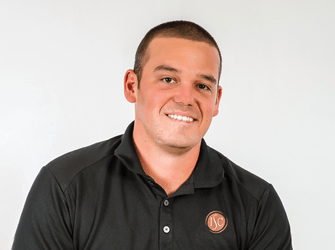 ---